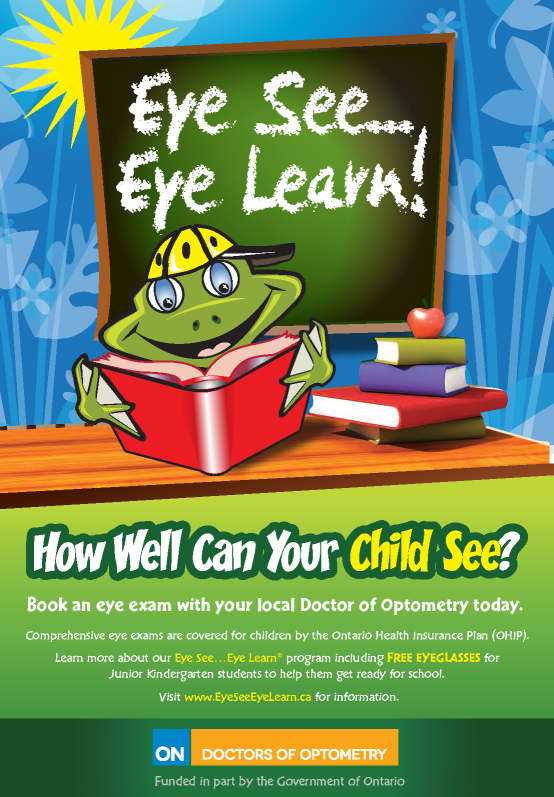 Excellence in School
Starts with Excellent Vision
Did you know?
• 60% of children who have learning difficulties have an undiagnosed vision problem
• 80% of classroom learning occurs through the eyes
• 1 in 4 school-age children suffers from some kind of vision problem
• Children with vision problems may have a short attention span (for their age) and can be wrongly diagnosed with Attention Deficit Disorder (ADD)
• Vision problems that go undetected can cause children to become frustrated with learning, suffer from low self-esteem and develop behavioural problems
• The only way to be sure your child's eyes are healthy, seeing well at all distances and working together as a pair is through a comprehensive eye exam by a Doctor of Optometry.
Children's Eye Exams are Covered by OHIP
Every child in Ontario who has an Ontario Health Card is entitled to an annual OHIP-insured eye exam by a Doctor of Optometry, up to and including age 19.
Eye See… Eye Learn® Offers Prescription Glasses at No Charge
Children born in 2011 are eligible for one complimentary pair of glasses with their annual eye exam, if prescribed, through participating Doctors of Optometry.
Offer available July 1, 2015 until June 30, 2016.
Book an Eye Exam for Your Child With us today!