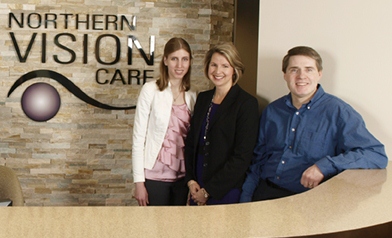 At Northern Vision Care, our eye doctors go the extra mile to make sure that you and your family receive the extraordinary level of care that you deserve.
Dr. Mark Robertson & Dr. Karen Hyyrylainen

Optometrists

Dr. Mark Robertson and his wife Dr. Karen Hyyrylainen have been practising optometry in Sault Ste. Marie at the Group Health Centre for over 20 years. They are thrilled to be opening their new practice, Northern Vision Care in the fall of 2012.

Dr. Robertson and Dr. Hyyrylainen both received their Doctor of Optometry degrees from the University of Waterloo. In 2001, they received their Therapeutic Pharmaceutical Agent (T.P.A.) accreditation from the University of Waterloo. They are members in good standing of the Ontario Association of Optometrists, Canadian Association of Optometrists and the College of Optometrists of Ontario.

When not practicing optometry, the doctors enjoy spending time with their family at their cottage on Lake Superior. They have two grown sons, David and Erik, and a lively Italian water dog, Niko. They also enjoy boating, cross-country skiing and travelling.

Dr. Kathleen Rossi

Optometrist

Dr. Kathleen Rossi was born in Sault Ste Marie. She attended the University of Guelph, where she received a bachelor degree in biochemistry. She then went on to graduate from the Optometry program at the University of Waterloo. She has previously worked as an optometrist at the Sault Optometry Clinic, and is thrilled to be joining the team at Northern Vision Care. Her hobbies include yoga and swimming.