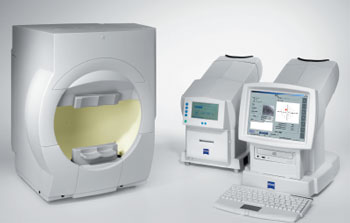 The visual field is essentially a map of what you see. It includes details of your central vision as well as your peripheral or "side" vision. Defects in the visual field can be indicators of a variety of diseases such as glaucoma, retinal problems and tumours. Northern Vision Care provides their patients with comprehensive visual field testing using two state-of-the –art instruments.
Each routine eye exam will include a quick and easy screening of the visual field using the Zeiss F.D.T. Utilizing the proven technology of "frequency doubling", this fast (less than 40 seconds per eye) test is able to screen each patient for potential visual field problems.
Patients who show visual field defects on screening and others who are at risk due to family history or exam findings will be given a comprehensive visual field assessment using the latest version of the Zeiss HFA 740i. This instrument is considered the "gold standard" for detection and monitoring of visual field loss.